(Part 3.)
I started working on this blog post years ago. Originally, it was meant to be an interview with a Chicago-born DJ and producer. Unfortunately, it never got finalized due to personal circumstances.
During this interview, I realized that while I was quite familiar with some of the most important European electronic music pioneers, I knew way too little about the American pioneers of electronic music.
The interview took place just a few months before I started experimenting with electronic music production. Getting into producing also meant that I wanted to learn the roots, and I wanted to know more than just some names and some tracks. I wanted to know the entire story. I wanted to know how it all happened…
There are many artists around the globe and many sources that wrote about them extensively, but I wanted to do a blog post that summarizes the most known ones in one place. This is Part 3. – because even though there was a selection that had to be made, the list got too long for my computer's CPU.
As said before, I am not inventing anything new here – simply attempting to summarise what has already been written.
The primary sources used for this blog piece were the biographies of the artists from Discogs, Wikipedia, some other journals and blog articles, and sometimes the artists' websites. These sources are always mentioned or linked throughout the blog.
This piece is for everyone who is not yet familiar with how the electronic music scene started and developed overseas in the United States.
Part 1 about 'The early pioneers' you will find here, and Part 2 about 'The House and Acid pioneers' under this link.
PIONEERS IN THE FIELD OF ELECTRONIC MUSIC IN THE USA [Part 3]
The Detroit techno & electro pioneers
The first wave – The Belleville Three
Juan Atkins
Juan Atkins
"The 1982 electro track "Clear", recorded by Atkins and Rick Davis as Cybotron, is often considered the first 'proto-techno' track. Continuing to experiment by fusing the extra-terrestrial funk of ParliamentFunkadelic with the futuristic rhythms and hard math of Kraftwerk and the progressive dance theorems proposed by Giorgio Moroder, the Model 500 12″s on his own label Metroplex laid the blueprint for Detroit techno.
Along with the tracks made by two schoolmates from the grade below, Derrick May and Kevin Saunderson, Detroit techno quickly made its way across the atlantic and immediately sparked the emerging rave culture and soon after the entire global dance community.
Moving through the later 1980s as Model 500, Atkins continued as one of the most prolific and sought after producers of electronic music throughout the 1990s." (Source: Discogs)
Kevin Saunderson
Kevin Maurice Saunderson was born in Brooklyn, New York. He spent the early years of his life in Brooklyn before moving at around age 10 to Belleville, Michigan, a rural town 30 miles from Detroit.
Kevin Saunderson
Saunderson first met Derrick May when the two were fourteen and both were attending the same school. May had decided not to pay Saunderson after losing a bet and, one day at school, Saunderson punched May in the face, knocking him out cold and giving him a concussion. After the altercation, the two became best friends.
During high school, Saunderson and Belleville High School classmate Juan Atkins became fans of DJ Charles "The Electrifying Mojo" Johnson. Atkins and May soon became serious about mixing others' music and creating their own, but Saunderson pursued other goals first, studying telecommunications and playing American football at Eastern Michigan University. Atkins had begun recording with Cybotron in 1981, but it was not until 1987 that May followed suit and made a record. Initially concentrating on becoming a DJ, Saunderson was inspired to create his own music after watching the six-month-long process as Atkins and May completed "Let's Go."
Derrick May
While May's musical influence on other producers and DJs cannot be doubted, due to an article published by DJ Mag in November 2020, this blog piece does not cover his legacy. May was accused of sexual misconduct (dating back 2 decades) committed against four women. (A number that later increased to seven.) Several publications covered this topic thoroughly: The Guardian, Selector, MixMag, Resident Advisor, Dancing Astronaut, VICE, Pitchfork, and EDM.
The second wave
The Underground Resistance Collective
There were two major collectives of American artists who are the most closely associated with the birth of Detroit techno as a genre, and one of them is the movement of the musical collective 'Underground Resistance'. UR was founded by Jeff Mills and Mike Banks in 1989, later joined by Robert Hood. (Source: Wikipedia)
Their style was reflecting "a synthesis of the type of dance music they have encountered in Chicago, combined with the mechanical sounds of groups like the above already mentioned Kraftwerk, with elements of political and social commentary on the economic recession of the post-Reagan era, "producing uncompromising music geared toward promoting awareness and facilitating political change. UR wanted to establish a means of identification beyond traditional lines of race and ethnicity." (Source: Wikipedia)
Jeff Mills
Jeff was definitely a key figure to the Detroit scene as it was known that he would often drive as far as Toronto or Chicago in order to purchase newly released music for his sets that took place in empty, suburban warehouses around Detroit.
Jeff Mills aka The Wizard
He also had a nightly radio show called The Wizard at WDRQ (hence his alias), where he would highlight local techno artists, giving light to the first wave of artists, the so called Belleville Three: Juan Atkins, Kevin Saunderson and Derrick May.  These three individuals were high-school friends who started producing electronic music in their basements. Just like Mills, the Belleville trio, too, "often made trips to Chicago to investigate the house music scene which was a natural progression from the disco music genre."
Mike Banks
Michael Anthony Banks, better known as "Mad" Mike Banks, is an American record producer. As mentioned earlier, he is the co-founder, along with Jeff Mills, of the record label Underground Resistance and was a key player in the "second generation" of Detroit techno. (Source: Discogs)
Mike Banks
Banks is a former studio musician (bass/guitar), having played with Parliament/Funkadelic among others. He worked in the second half of the 1980s with the collective Members of the House, releasing several 12″ singles. Banks and Mills, along with Robert Hood produced most of the label's early releases. After Hood and Mills's departure from UR, Banks headed the label himself, releasing material from acts such as Drexciya and Sean Deason in addition to his own productions.
He is also co-founder and co-owner of Submerge Distribution with Christa Robinson since 1992. Submerge, along with Underground Resistance, is an independent record label that distributes Detroit-based techno worldwide.
Among Banks's early influences were Juan Atkins and Marshall Jefferson; his later work shows his increasing interest in acid house and industrial. Banks has hewn strictly to an ethic of the underground and refuses to be photographed in public as part of this ethic. His releases often deal with elements of political and social commentary, which have made him a controversial figure within the Detroit electronic music scene. Banks quit playing live shows in the late 1990s due to continuing problems with bringing electronic equipment through customs agencies but began doing live shows again in the mid-2000s.
After Hood's and Mills's departure from Underground Resistance, Banks headed the label himself, releasing material from acts such as Drexciya and Sean Deason in addition to his own productions. (Source: Wikipedia)
Robert Hood
Robert Artis Hood is known to be committed to minimal Detroit techno with an emphasis on soul and experimentation over flash and popularity. Hood started Hardwax in 1991 (Robert Hood's first label prior to forming M-Plant) and he owns and operates the M-Plant imprint (including the two sub-labels Drama and Duet) through which he has released the bulk of his solo material. Next to his own labels, he also released on labels such as Metroplex, the Austrian Cheap label and Jeff Mills' Axis label.
Robert Hood
Hood was a founding member, along with Jeff Mills and Mike Banks, of the Underground Resistance label, whose influential releases throughout the early and mid-'90s helped change the face of modern Detroit techno and sparked a creative renaissance. Infusing elements of acid and industrial into a potent blend of Chicago house and Detroit techno, UR's aesthetic project and militant business philosophy were (and remain) singular commitments in underground techno.
Hood left Detroit (and UR) with Jeff Mills in 1992, setting up a shop in New York and recording a series of 12″ EPs. Through the mid-'90s, Hood focused on his solo work, setting up M-Plant in 1994 and releasing singles such as "Internal Empire", "Music Data" and "Moveable Parts".
Although his desire to remain underground has been replaced by an urge to reach a wider audience, Hood remains fiercely critical of artistic and economic movements destructive to inner-city communities and has combined his musical enterprises with outreach and social activist ends. His debut album "Point Blank" took Hood's hypnotic minimalism to entirely new depths and territories, whilst his latest album "Wire To Wire" takes his productions onto new levels of musicality and sophistication within the world of electronic music. (Source: Discogs)
DJ Skurge
The collective that included two labels (Underground Resistance and Somewhere In Detroit) was supported by Milton Baldwin, aka DJ Skurge, or James Pennington, aka Suburban Knight, two crucial figures on the outskirts of Detroit techno since the mid-'80s. Pennington became a mentor for Mike Banks and the Underground Resistance crew with the rise of Detroit's second wave in the early '90s.
Suburban Knight
Electro pioneers
Drexciya
"For long time, Drexciya was considered a mysterious electro unit from Detroit, Michigan that combined a faceless, underground, anti-mainstream media stance with mythological, sci-fi narratives, to help heighten the dramatic effect of their music.
In this respect they were similar to artists within and close to the Detroit collective Underground Resistance. After the tragic passing of one half of the duo, James Stinson was identified posthumously in 2002. Officially, he is the only identified member of Drexciya, but it was considered an open secret that his partner was Gerald Donald, who is until today active in the scene." (Source: Last.fm)
"The duo's name referred to a myth comparable to Plato's myth of Atlantis, which the group revealed in the sleeve notes to their 1997 album "The Quest". "Drexciya" was an underwater reign populated by the unborn children of pregnant African women thrown off of slave ships that had adapted to breathe underwater in their mother's wombs." (Source: Last.fm)
The beginning of 2019, the Drexciyan mythology was expanded upon in 'The Book of Drexciya Vol 1.' – an anthology in the form of a graphic novel that told further the story through original imagery drawn by Abdullah Haqq.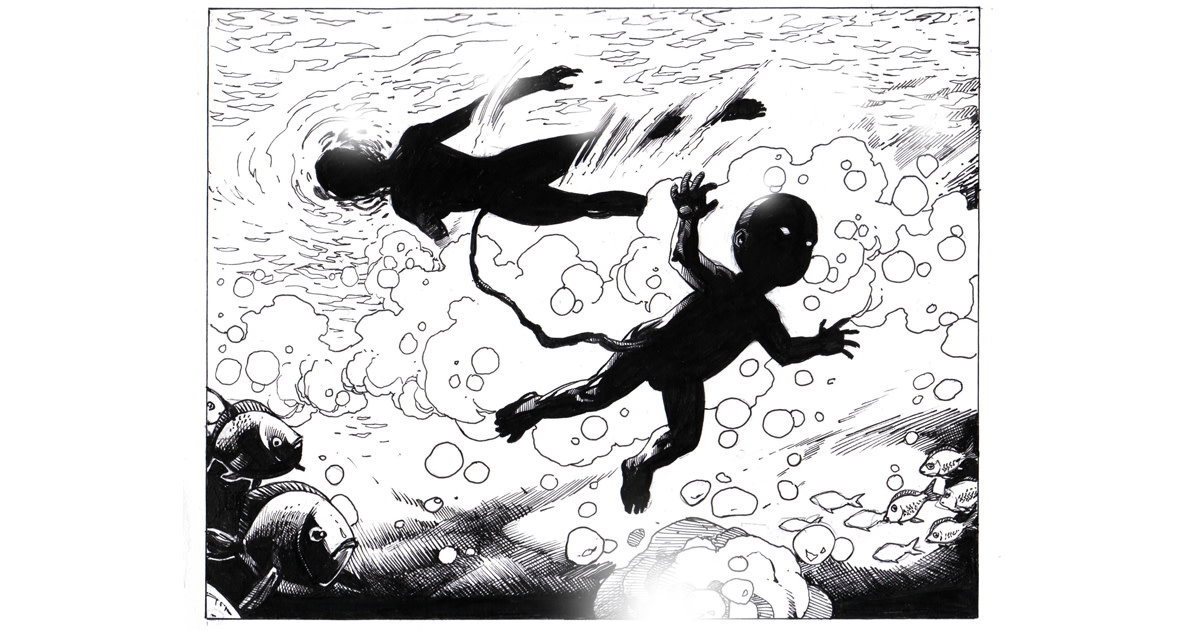 "The majority of Drexciya's releases were in the style of dance-floor oriented electro, punctuated with elements of Detroit Techno, with occasional excursions into some other genres (industrial or ambient)." (Source: Last.fm)
Dopplereffekt
Gerald Donald until today releases under several aliases (Heinrich Mueller, Arpanet) and is active in different formations such as Dopplereffekt (which has several different members, amongst them his wife, To Nhan Le Thi.
When Gerald Donald was asked about his involvement in the Drexciya project in an interview, he only replied:
Gerald Donald
Dj Stingray
Sherard Ingram, aka DJ Stingray, is the founder of Urban Tribe and is an associate of mythical Detroit electro duo Drexciya. Urban Tribe was started in 1991 by Ingram, with productions released on compilations from Retroactive and Planet E, and a debut album released on Mo Wax in 1998. (Source: Discogs)
Dj Stingray
As a DJ and producer, Ingram specializes in futuristic electro, preferring fast tempos and inventive beat patterns to more accessible, club-friendly rhythms. When asked to describe his style of electronic music, he prefers to classify it as techno. Taught how to DJ by Kenny Dixon, Jr. (Moodymann) in the mid-80s, he gradually developed and perfected his dense, high-speed mixing style, DJing at biker bars such as The Outcast in Detroit. Slipping bits of techno tracks in with Miami booty bass and West Coast electro and hip-hop. (Source: Wikipedia)
Buy Rite Music in Detroit, 2003
In the late 80s, while working in the record shop Buy Rite Music, he met the late James Stinson of Drexciya and eventually became friends. Shortly thereafter, Stinson asked Ingram to be the opening DJ for Drexciya's tour. This is when the name DJ Stingray was given to Ingram.
This is also when he started to use his signature balaclava, which at first was supposed to be the same Underground Resistance mask used by the rest of the crew. Ingram quickly switched it out for a SWAT mask since it was more comfortable.
Unfortunately, the tour never happened due to founding member James Stinson's untimely death. When Ingram was asked by Hyponik about his impression of Stinson, he said:
More artists of the second wave
Octave One
The group 'Octave One' was formed by brothers Lenny Burden and Lawrence Burden from Detroit, Michigan. Siblings Lance Burden, Lorne Burden and Lynell Burden also contribute to the group's productions. (Source: Discogs)
Octave One
Their first single, 'I Believe,' was released on Derrick May's Transmat in 1990. In the same year, together with their brother, Lynell, they formed the record label 430 West Records to release the EP 'Octivation'. In the year of 2000, they released their most commercially successful recording, 'Black Water,' on their own 430 West label. It stayed their biggest hit, selling over one million copies. Octave One have remixed recordings for Massive Attack, David Russell Lee, DJ Rolando, Steve Bug (label owner of German minimal house and techno label, Raw Elements, Poker Flat Recordings and Hamburg-based Dessous Recordings), Johnatan 'John' Thomas (French techno producer, owner of Ethique Recordings), The Trammps, and Inner City (a Detroit house and techno group formed in 1988, composed of producer Kevin Saunderson and Chicago native Shanna Jackson aka Paris Grey).
In 2002, 'Blackwater' was remixed by the band with a reworked live string arrangement performed by the Urban Soul Orchestra in London, England. The single was re-released by Concept Music (UK), Ministry of Sound/Voidcom (Germany), Vendetta Records (Spain), and Tinted Records (Australia) in the same year. It peaked at #47 (February 2002) and #69 (September 2002) on the UK Singles Chart. (Source: Wikipedia)
Octave One is still active (2022) and tours the world regularly, doing LIVE electronic music performances. They belong to the second generation of Detroit Techno artists.
Mike Huckaby
Michael Hucakby (1966 – 2020) was an American DJ, producer, and sound recording teacher from Detroit, Michigan, USA. Huckaby was widely respected in Detroit's electronic music landscape, known for his distinct, deep and soulful house music and impeccable selections. He devoted his life to music, beginning to collect records as a child and buying his first studio and DJ gear as a teenager. (Source: Attackmagazine)
Mike Huckaby
"Between 1992 and 2005, he worked at the well renowned store, Record Time (Roseville, Mich.) alongside Rick Wade and others where a separate space within the shop was dedicated solely to House, Techno and Hip-hop 12-inch singles." (Source: The NY Times)
"According to Alan Oldham, a.k.a. DJ T-1000, a Detroit-born DJ, the store was doing a lot of mail orders, too and Hucakby was dealing with foreign buyers and fans as well — he was an ambassador and tastemaker all over the world, particularly influenced the club scenes in London and Berlin. He was a library of house and techno knowledge, always eager to share." (Source: The NY Times)
From the mid-90s onwards, he toured extensively around the world, spending much of his busy schedule setting up lecturing camps around the globe offering basic and advanced synthesis, sound design, and production skills in software such as Native Instruments (Reaktor, Maschine) and Ableton. An influential figure for young, aspiring producers and DJs, Huckaby led production workshops at YouthVille Detroit and beyond, with innumerable DJs and electronic artists counting him as a mentor. One of Huckaby's YouthVille students, Kyle Hall, has gone on to an international DJ career as well. (Source: The NY Times)
Kenny Larkin
Kenny Larkin, Detroit techno producer, DJ, and remixer since 1990. He is considered to be part of the second wave of Detroit techno, along with people like Carl Craig. Larkin (who also releases as Dark Comedy) has been described by AllMusic as "massively influential" on American, British, and German techno. (Source: Discogs)
Kenny Larkin
Larkin was born in 1968 and raised in Detroit, but did not participate in the early years of Detroit techno because he was serving in the military. Upon his return, he began producing, influenced by Juan Atkins and Derrick May, as well as the Chicago house music scene. His early single releases, "We Shall Overcome" and "Integration", were issued on Plus 8, a label overseen by Richie Hawtin and John Acquaviva; later releases appeared on Buzz and Warp as well as other labels. His records have seen more success in continental Europe than in the U.S. (Source: Wikipedia)
In 2021, he reissued via his own Art of Dance imprint his Metaphor album. Originally released in 1995, Metaphor is described as an extension of Larkin's "techno soul agenda," imbuing Detroit techno with futuristic synthesizers. (Source: The Vinyl Factory)
Alan Oldham
Alan Oldham – the Detroit's Renaissance Man, a true Motor City original.
Alan Oldham
From his beginnings as a member of Underground Resistance (replacing Jeff Mills), to seminal releases on Tresor Berlin, BPitch Control, Third Ear, Suspected, Elypsia Records (under his Detroit Rocket Science alias), his own Pure Sonik and Generator Records label (and many others), to his legendary artwork for such labels as Transmat, Djax-Up-Beats, New Religion, Houndstooth, Dark Entries, and more, Oldham does it all.
Under his stage name of DJ T-1000, Oldham has crisscrossed the globe rocking dancefloors from Amsterdam to London to Rome to Tokyo to Shanghai to Mexico City to his native Detroit and back to his current home in Berlin, where he holds down residencies at Tresor Berlin and Suicide Circus.
As an illustrator who started out in the indie comics scene of the mid-1980s, Oldham leveled up to canvases and has had successful international gallery shows in Amsterdam, Vienna, Paris, Stettin (Poland), Detroit, and Berlin, with more to come. Over 25 years in the game, and Oldham remains at the forefront of both art and music." (Source: BPitch)
I doubted whether to feature Carl Craig after I came across this article published by Annabel Ross, an award-winning investigative journalist who wrote numerous articles for Mixmag, Resident Advisor, The Guardian Australia/New Zealand, and NME - just to name a few.
Carl Craig
Aliases: 69, BFC, C2 (4), C2C4, Carls Davis, Designer Music, Eich, Me, Son, Sche, Free (8), FRS, Im.mortal Music, No Boundaries (2), Paperclip People, Parametric (2), Piece, Psyche, Shop, Tres Demented, Urban Culture
In Groups: Incogdo, Innerzone Orchestra, The Detroit Experiment, Urban Tribe
Carl Craig
Ross wrote the following:
This is, of course, a huge dilemma, given Craig's legacy.
While it is understandable that when someone hears such news about his long-time friend and mentor of 40 years, it must be shocking and many just want to ignore it, as it sounds almost impossible for them to believe. Even Ross acknowledged this in her article:
However, she goes further:
The reason why I decided not to delete the part already written about Craig is so that people can see what a life trajectory he had and how many artists he has collaborated with, and yet, he decided to act with such a careless and toxic attitude as Ross described in her article. I personally found the Instagram posts and reposts by him and Omar S the most shocking and disappointing. It is truly nothing else but toxic male solidarity. That is the reason why I introduce him at the end of this blog piece.
Born in Detroit in 1969, Craig was first exposed to the Detroit techno scene in the late 80s via a cousin that ran the lighting for Jeff Mills. After early collaborations with his "first wave" mentor Derrick May, Craig struck out on his own in the early 90s. (Source: The Wire UK)
Recording as 69, BFC, Psyche, Paperclip People, Tres Demented, and under his own name — as well as a slew of other aliases and collaborations — Craig developed an instantly recognizable (and oft-imitated, if rarely matched) style, at once lush and economical, bursting and streamlined.
While known principally as a Techno artist, Craig's musical journey hasn't stopped there. The 1992 track 'Bug in the Bassbin', recorded by his Innerzone Orchestra, is widely credited as sparking a revolution in breakbeat-based music, while his Detroit Experiment brought together artists from Detroit's jazz and hip-hop scenes; more recently, Craig recorded with Wendell Harrison, Phil Ranelin, and other members of Detroit's fabled jazz label Tribe for an upcoming Techno-jazz fusion project.
He also had a hand in Urban Tribe's The Collapse of Modern Culture, a groundbreaking downtempo collaboration between Sherard Ingram (aka DJ Stingray), Kenny Dixon, Jr. (aka Moodymann) and Anthony "Shake" Shakir, and his one-off projects range from participating in Ricardo Villalobos' improvising laptop collective Narod Niki to performing on industrial designer Harry Bertoia's sound sculptures.
In 2020, before the pandemic hit, Craig had planned a few days downtime after his live set with Moritz von Oswald at New York's Dia Beacon; the opening celebration of Craig's sound installation Party/Afterparty, a commission that developed over the course of five years. As Hannah Ongley wrote for Document Journal, "The installation is unnervingly prescient. In Dia's post-industrial basement level, the darkness glows neon green, and modular synths steadily build up to a euphoric club beat—the sound of collective fervor right before the inevitable comedown."
When talking to the German 'Kaput' magazine, Craig described Detroit the following way:
To be added: Milton Baldwin aka DJ Skurge, Kenneth D. Dixon Jr. aka Moodymann, James Pennington aka Suburban Knight, Terrence Dixon